An anemometer specifically designed for the crane driver including:
 • In the cabin :
The AN41 with dual display (digital and bargraph) delivers instantaneous wind speed. It provides two alarm thresholds both activating visual and audible alarms.
As standard , the pre-alarm is set to 50km/h (14m/s) and the alarm to 72km/h (20m/s).
• At the top of the crane :
The TR41 sensor with plastic made body and cups also used in maritime activities transmits wind speed to the AN41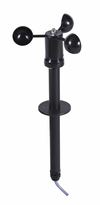 Outside, usually near the cabin :
The KS41 signaling kit to inform all site personnel with an orange flash light for the pre-alarm and a red one plus powerful siren for the alarm. 
Note:
The three items, display ( AN41 ) + transmitter ( TR41 ) + signaling kit ( KS41 ) make this anemometer system comply with the 15/11/1995 recommendation of the French National Health Insurance Fund (CNAM) .
Simple stand-alone anemometer powered by two batteries (AA ) 1.5V . The AN10 is both very precise and highly competitive in price.
It displays the wind speed on a three digits screen and can be setup in km/h, mph or m/s
Note:
the display box is installed in a weather protected place and is mounted on a metal part with magnets fitted at its back. 

The wind recorder provides a clear, simple and instantaneous view of the wind speed as well as easy access to the wind speed history.
It is a supplementary equipment that can be crucial to show the contractor the impossibility of using the cranes for example due to high winds prohibiting the use of the cranes.
Various solutions are available at SMIE, for more information contact our sales department
Contact our sales department on 33 (0) 1 82 77 00 70