Information systems for tower cranes : 3 functions in 1: display, datalogger and zoning system which increases safety as well as productivity !
DLZ342: the crane operator's display
Installed in the crane driver's cabin, the DLZ342 provides the crane operator with all the information needed:
Date and time
Load weight
Moment
Slew position
Radius position
Hook height
Travelling position
Wind speed
Luffing jib angle
Reeving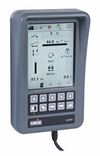 DLZ342: the memory of the crane
The DLZ342, records important crane data:
Number of working hours.
Total load lifted
Analysis of lifting cycles
Details of the 10 last lifting cycles
The last 2000 recorded events
Information logged by the DLZ342 can be simply transferred to a computer by using a USB memory stick.
They are easy to read as they are presented under the forms of graphs and charts with MS Excel®
To go further, the DLZ342 also integrates a zoning system.
Ideal for a stand-alone crane which does not need a complete anticollision/zoning system, the DLZ342 is very easy to program and use with its graphical view of the site and prohibited zones.